What is Nd:YAG laser?
Nd:yag laser targets acne scars, spots, and wrinkles, simulating collagen regeneration of the dermis. The laser narrows pores and improves fine lines.
It can also improve pigment precipitation, which has been untreatable until recently.
What can Nd:YAG do for you?
Improve skin tone

Reduce rosacea and facial veins

Reduce facial wrinkles and fine lines

Treat sun damage including age spots and brown pigmentation

Firming and tightening the skin

Stimulate new collagen and elastin tissue production
Nd:YAG Preoperative Care
1.  Avoid acid products and exfoliating 1 week before treatment.
2.  Avoid sun exposure and sunbathing 1 week before treatment.
3. Do not soak in a hot spring, sauna, or steam spa 1 week before treatment.
4. Those who have crab foot or easily scar should inform the physician.
5. Those who are sensitive to light, have skin lesions or immune system problems, are or may be pregnant, or on specialized drugs, should inform the physician.
Postoperative care
1. For 1 week after treatment, do not use whitening products, acid, or exfoliating products
2. For 1 week after treatment, avoid humid and high temperature places, such as baths, saunas, hot springs, etc.
3. Avoid exposure to sunlight and wear ultraviolet protection.
4.  If there is a nodule callus after treatment, it will naturally fall off within 7-10 days. Do not remove manually.
5.  Avoid smoking, alcohol, and spicy foods.
Treatment interval
Each treatment should be 2-3 weeks apart. For maintenance, treatment can be spread 3-4 weeks apart. Discuss this with your physician.
Before & After Photographs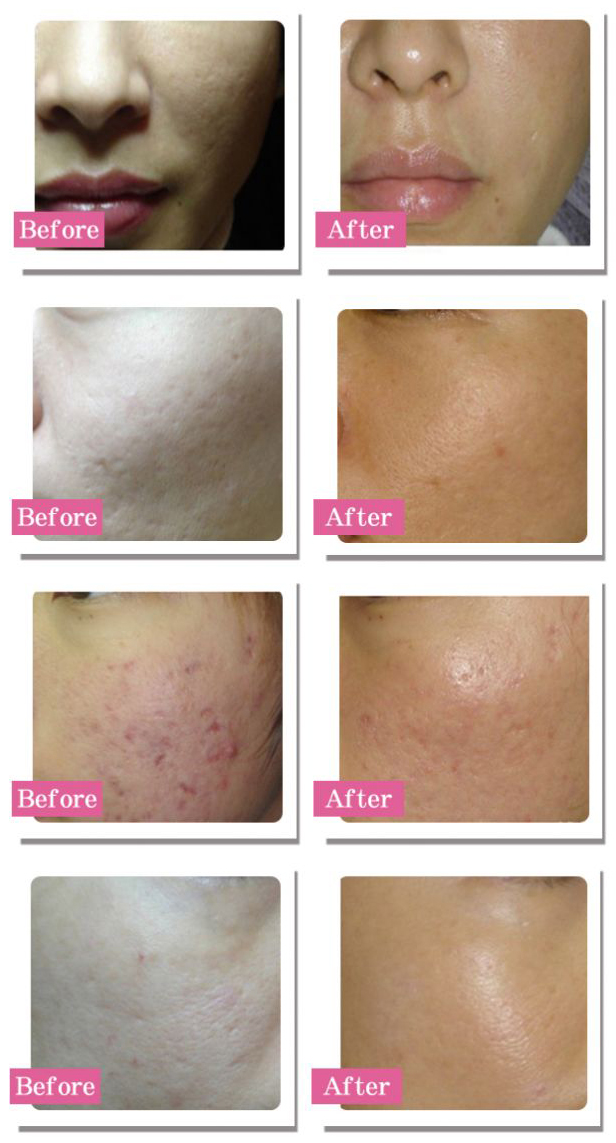 The above cases are for reference only. Individual results may vary.